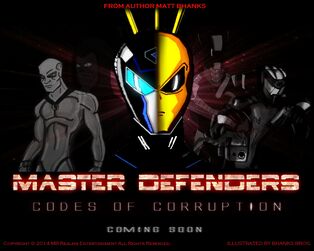 Brief Synopsis: After the new leader of AIA Central has Cain X sign a secretive accord, the league is reformed into a terrorist organization and has the east sector labelled as their initial target.
Long Synopsis:
Four months after the Battle of Cyclohoma, a new plague is sentenced to destroy the universe.  In the world infested with countless Pixalians, Canavin and the Master Defenders are back to finish what was started many generations ago.  It's called Sychophemia; a vile nation of predators that are known to be the ancestors of the dreaded directors.  With the thought of a destructive race that is potentially stronger than Xaliemer, a man named Hank Lasher promises to alter the world with this infestation.  He is corrupted, undoubtedly sinister, and is no longer known as the respectful young man of the famous Lasher scientists.  Now dressing himself in a disguise of a former central leader, Hank Lasher is a member of the universal plague order, led by the mysterious High Power.  And having a group of skilled assassins doesn't help the world at all.  Only one alliance could rise to the occasion and stand a chance against the directors of the universal plagues.  Canavin must will his team to victory before Earth is consumed by corruption.  In their biggest challenge yet, the Master Defenders learn to act as the only cure for the good of mankind.
NEW CHARACTERS:
CAMEOS:
With the completion of the final draft of the long awaited Sequel to the 2013 epic; Master defenders: Codes of Corruption is said to be Matt Bhanks' best work to date. With the return of all your favourite characters in this thrilling story that will keep you on the edge of your seats.
Community content is available under
CC-BY-SA
unless otherwise noted.